An Impressive Innovation Challenge: How the Junior Geeks Step up in a Creative Fashion
14 June 2021 - 11:54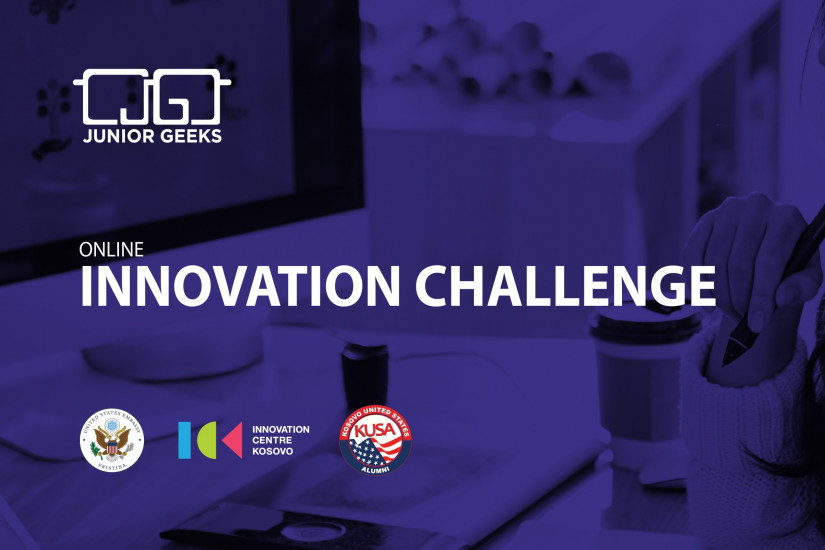 Have you ever wondered how we can make mental healthcare more accessible to youth with the help of an app? Well, it turns out that, in 24 hours, our Junior Geeks would be able to figure that out.
This weekend, we witnessed an intensely exciting innovative online competition between Junior Geeks students. In tandems of five, the hardworking teams of students raced to tackle current world issues using STEM methodology and their respective hard earned skills, in only 24 hours!
Under the mentorship of Leke Sahatqija and Agnesa Belegu, the enthused participants of this Innovation Challenge, have blazed the drawing board with an abundance of innovative and fleshed out solutions to the following modules: environmental issues, gender and identity, mental health, health care, cyber security and industrial issues.
The main rule of the challenge was to tackle a specific element of the problem, as opposed to a generalized and intangible whole that cannot be solved overnight. The eighteen (18) competing teams handled the challenge gracefully and found fun and realistic ways to impact the problem and bring a much broader conversation about said problem to the table.
By the time their 24 hours were up, each team presented skillfully and were able to hold a healthy review of each other's ideas while finding ways to make it better.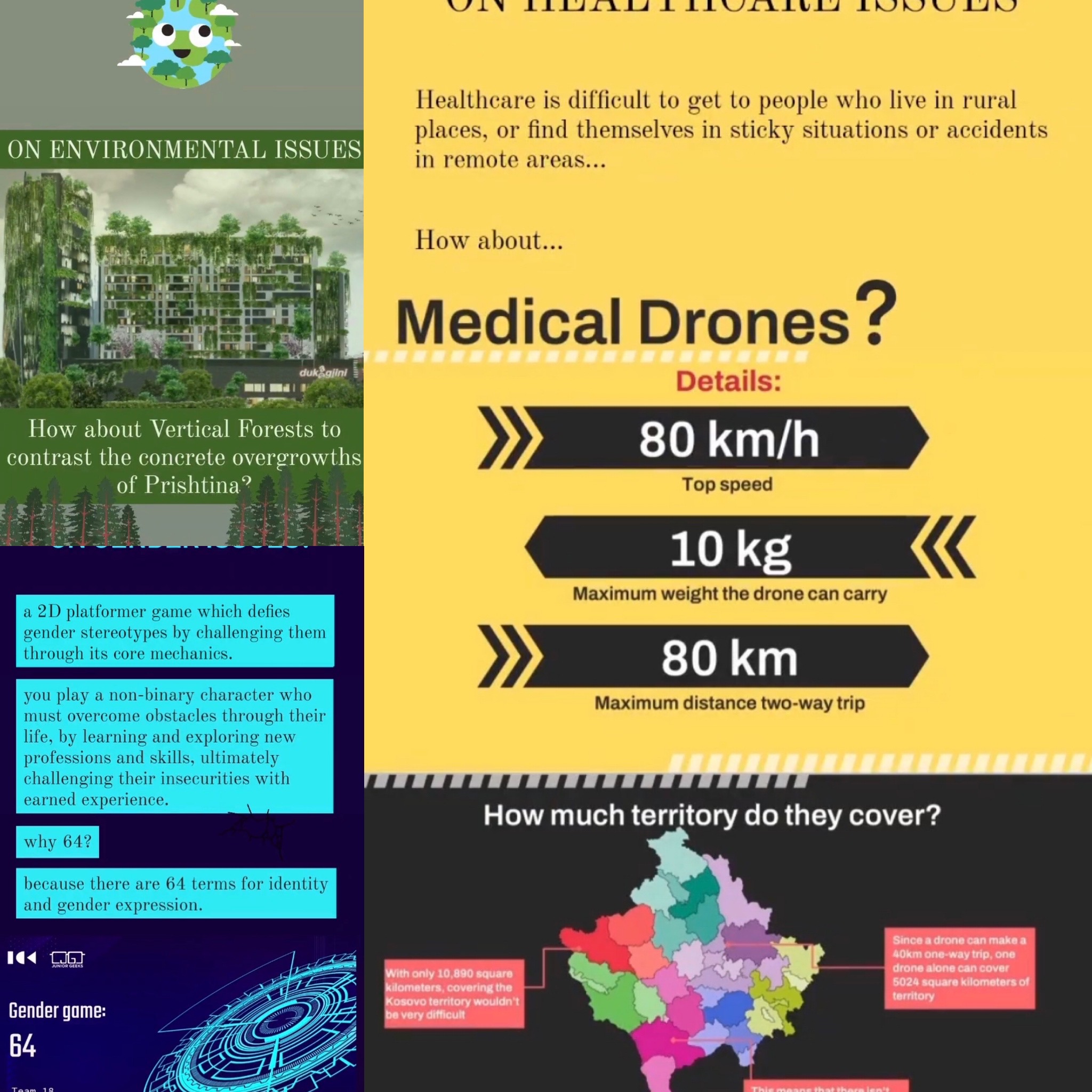 One team came up with "Medical Drone", an on-the-terrain medical drone that can make healthcare accessible to more secluded areas, fast and transportable during emergencies and hyper-responsive during natural disasters when infrastructure can be too compromised and the medical need is time-sensitive.
Other ideas include a fun interactive video game called "Gender Game 64", where the villains are the bullies that stereotype people, helping the game player fight gender stereotypes and negative backlash in a constructive medium and gain confidence through a storytelling-style platform.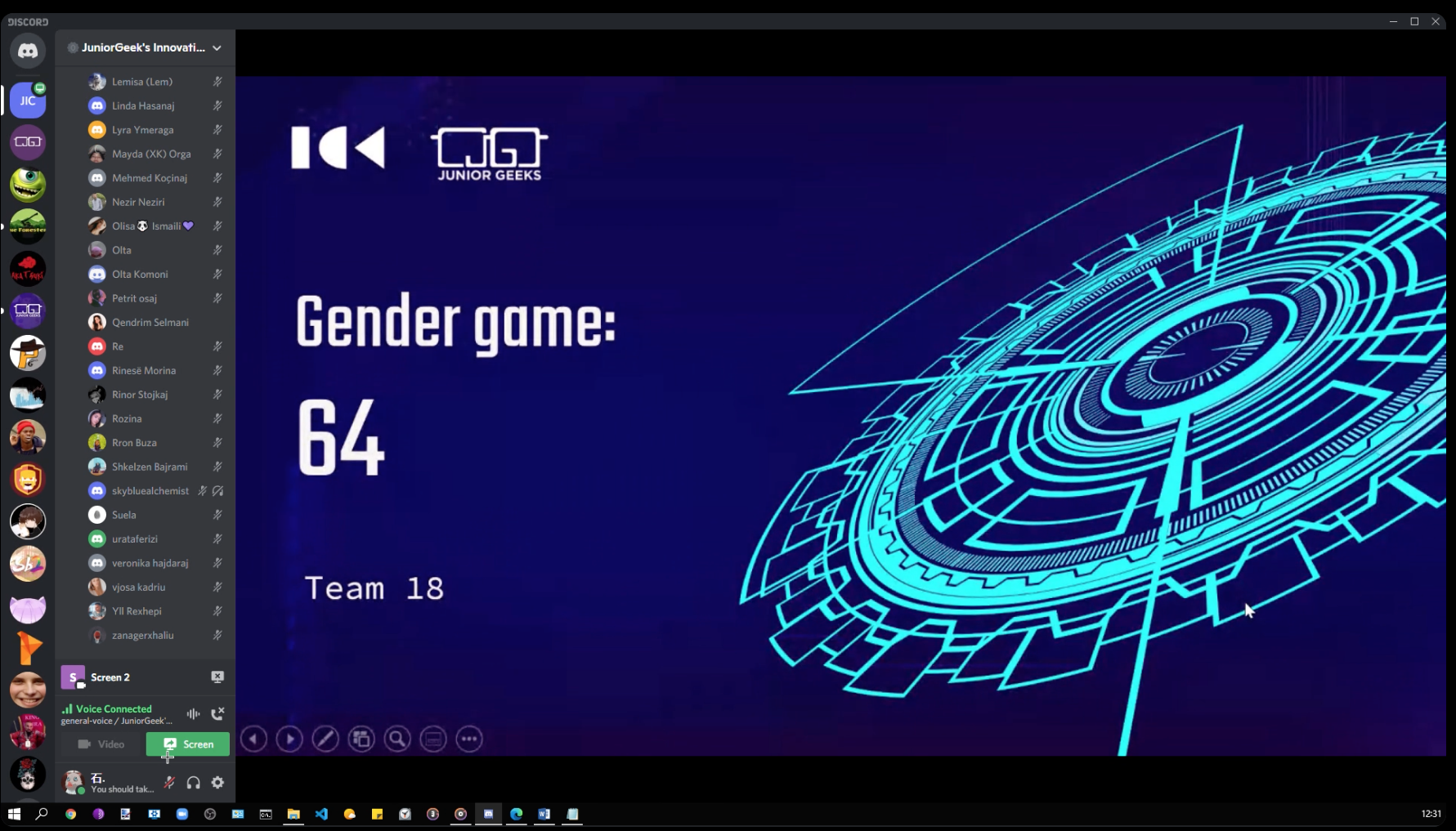 "Witnessing the progress of Junior Geeks lectures these months, a positive outcome was indeed expected. What we didn't expect, though, was to have high schoolers come up with college-level creative ideas and compete with the vigor and wit of actual pitch-ready innovators.", said Leke and Agnesa, absolutely proud of their student's efforts.
It has a major highlight to the already flying success of the program as well as set a momentum for other potential subjects in the future using STEM solutions!
It was interesting to note that students overwhelmingly chose to solve the mental health category, finding ways to manage complex states such as anxiety and depression. When asked why, they said it's an issue they feel is the least teached, tackled or discussed in an educational setting, although important to their stage of growth. Because it harbors so much mystery and prejudice, they wanted to impact the issue head-on by uniting to find creative ways to relieve their peers of the crippling effects mental health can have on their quality of education and life itself.
"It is a topic they don't get to talk about or be informed about without having a hint of stigma associated with it," commented Eldita Tarani, a psychologist alumni and one of the event ideators, "so seeing them so passionately and effectively take on such a huge abstract problem in such creative efficient ways, was impressive and uplifting.
Stay tuned for the Certification Ceremony of the Junior Geeks Program this Thursday (June 17th) where the 3 winning teams of the challenge will be announced. That, and potential future projects!
Junior Geeks program is financed by the US Embassy in Kosovo and MDAO, supported and implemented by Innovation Center Kosovo (ICK) and Kosovo US Alumni (KUSA).